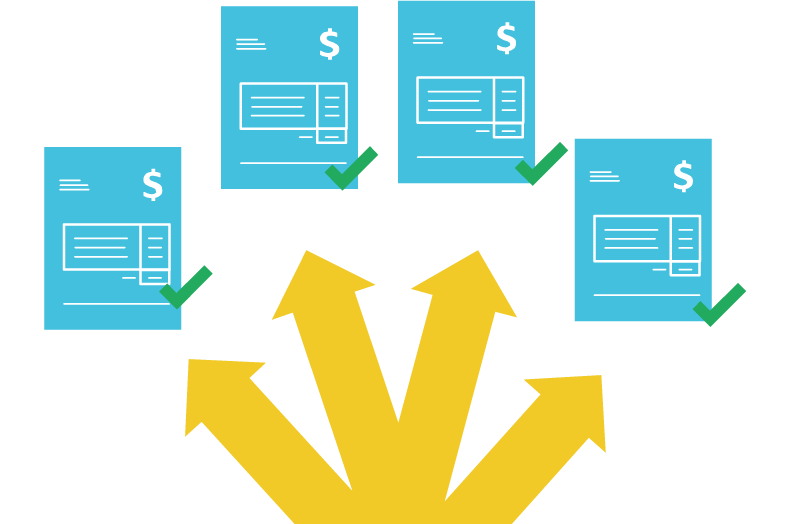 Global billing management
This module, available on request, allows you to preview all costs for each property (except MLS) in Immomig®, i.e. broker commissions, invoices (and reminders) and any refunds to third parties in addition to marketing expenses.

This makes it easy to manage broker commissions, even when paying on account or transferring back!



This module is available with the PRO license on option.
Various elements to be invoiced
The "Configuration" section allows you to set preferences for invoicing. You can choose various settings, depending on the way you work and in only a few clicks!


Choose from a variety of elements such as fees, credits, refunds, VAT, etc. - everything according to the needs of your real estate agency.
Everything at a glance at the dashboard
Be always up to date and get an overview of the outstanding tasks.


In addition, global configurations are possible according to your personal work habits and the dashboard, which displays all tasks to be completed, ensures that you do not forget anything.
Creation of reports
You have the opportunity to generate reports in PDF format for any broker who has participated in the sale or rental of the property. 


Benefit from creating reports on the settlement of seller commissions. These internal reports can be compiled as a general overview for all brokers or only for individual brokers.
Example
The company XY SA sold the house located in Granges-Paccot whose owner is Mr MANDANT. A fee rate of 3% was agreed with Mr. MANDANT during the mandate. The house was sold for 1'000'000 CHF.
XY SA therefore sent an invoice for the fees for the sale of Mr MANDANT's villa for an amount of CHF 30,000 (excluding VAT).

Internally, XY SA works with its brokers on the basis of a commission rate of 30% deducting any retrocessions.
A total commission amount of CHF 9'000 is therefore calculated for the sale of this item. Given that the mandate was obtained by a business reporter with whom an amount of CHF 2,000 was defined at the time the mandate was granted, the retrocession was deducted from the amount of the commissions which now amount to CHF 7,000.

The broker Mrs FUX, has found the buyer; she is entitled to 60% of these 7'000 CHF. Mrs JONER, who was responsible for the object, is entitled to 40% of this commission, which is CHF 2,800. The total internal commission amounts to CHF 9,800.