New Developer License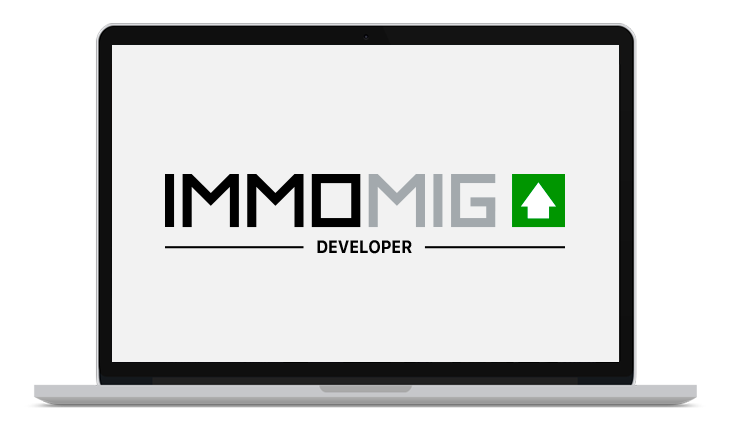 Discover the new license for the management of your real estate promotions only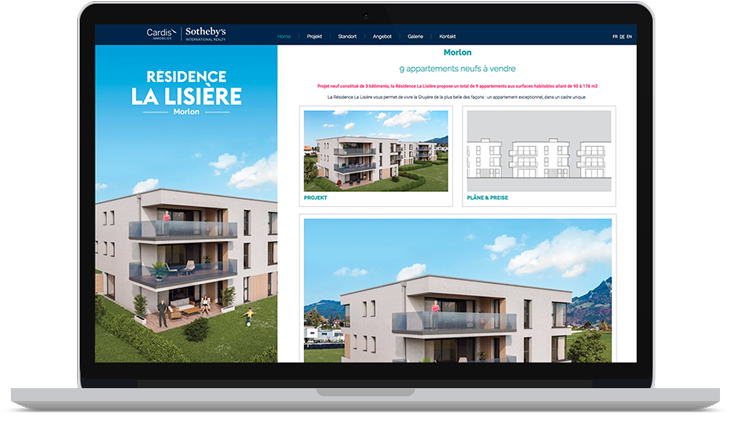 Manage your real estate projects without any difficulty with Immomig®
Our software has a dedicated project management tool to help you manage your promotions efficiently and affordably. Thanks to the global view offered by this module to be activated manually, manage all your projects simultaneously without any difficulty! A few clicks will be enough for you to create a clear and professional promotional website offering an exceptional display of all your objects!
A powerful management tool
Thanks to a tree-structure system
Project management on Immomig® has 3 levels of hierarchy for a clear structure of your projects. You can duplicate a project, a building or a final object with a simple click to save time. In addition, as soon as a new project is created, a summary table with all the final objects is created, which allows you to easily modify or reorganize your project using a drag and drop tool.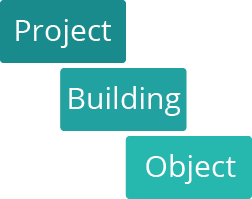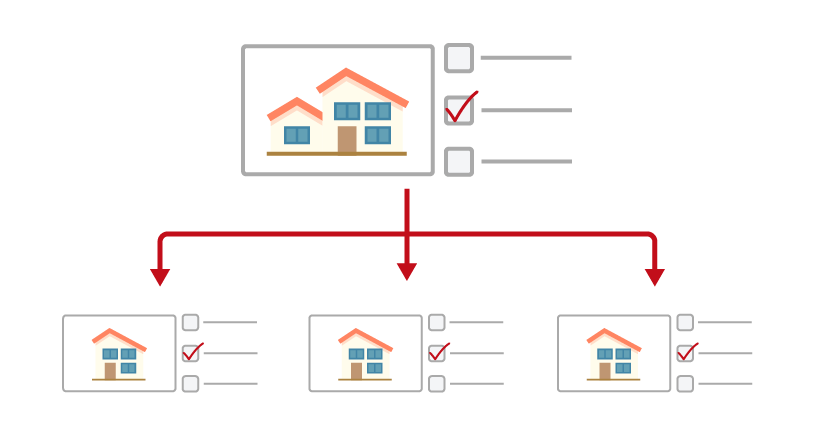 Thanks to an inheritance system
When managing a project, it often happens that a parameter changes such as the address or the availability of the property. In order to avoid manual entry on each object, an automatic inheritance option is systematically offered to you when you make a modification on a project or a building. With a single click, the modification can then be applied to your entire real estate development. With Immomig®, technology makes your life easier!
Thanks to a smart Matching tool
Our matching tools also work on the final objects of a project. When several objects of a single project can potentially interest a contact, a unique link on the project is sent to him for more clarity! Say goodbye to long lists of listings with Immomig®!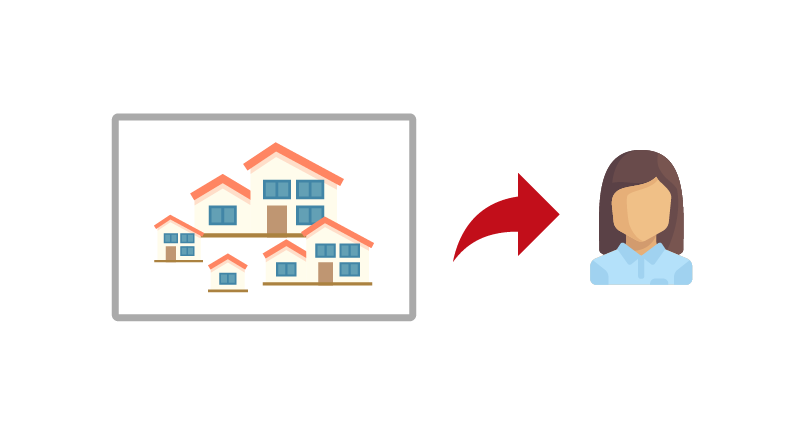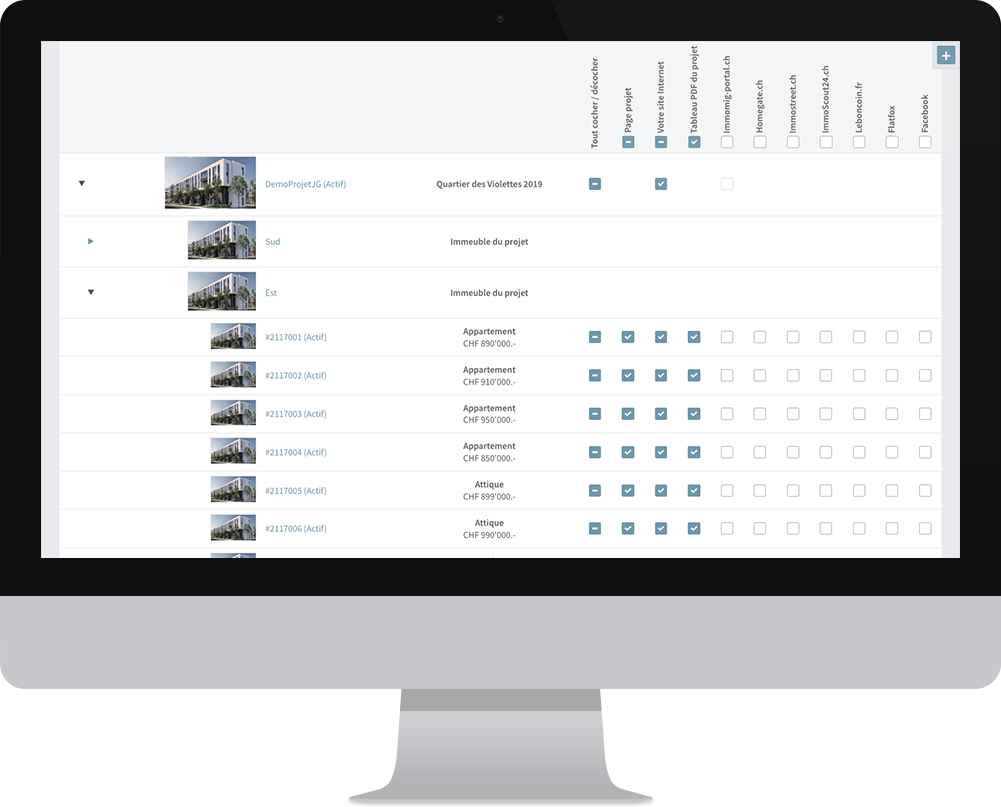 Thanks to an excellent overview of publications
Publish but publish intelligently in order to reduce your invoice at the end of the month! With Immomig®, that's what we encourage you to do. Indeed, in many projects, highly similar properties are for sale. Our project management tool allows you to visualize at a glance the final objects of a project and to manage their publication on the different portals. Choose carefully one or two properties for each category and simply add the link to your web page dedicated to the project. Smart, isn't it?
Sale/rental statistics
Interactive charts allow you to see the financial figures at a glance. With the statistics you can quickly see the progress of the commercialization. If the developer asks you for the number of bookings, or the number of sales/rental units, you can quickly and easily inform him. The Immomig® system, which centralizes all your data, is constantly updated.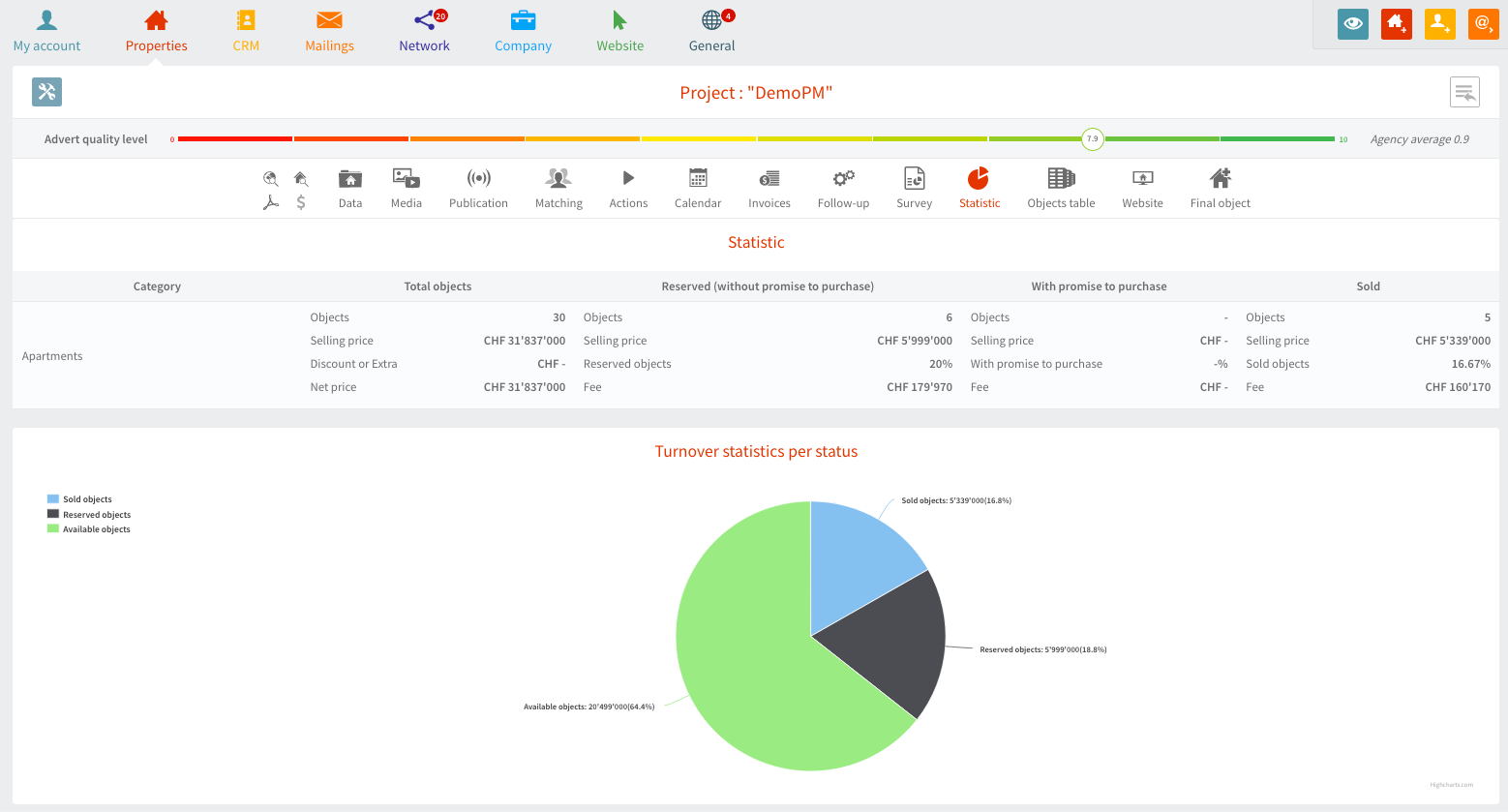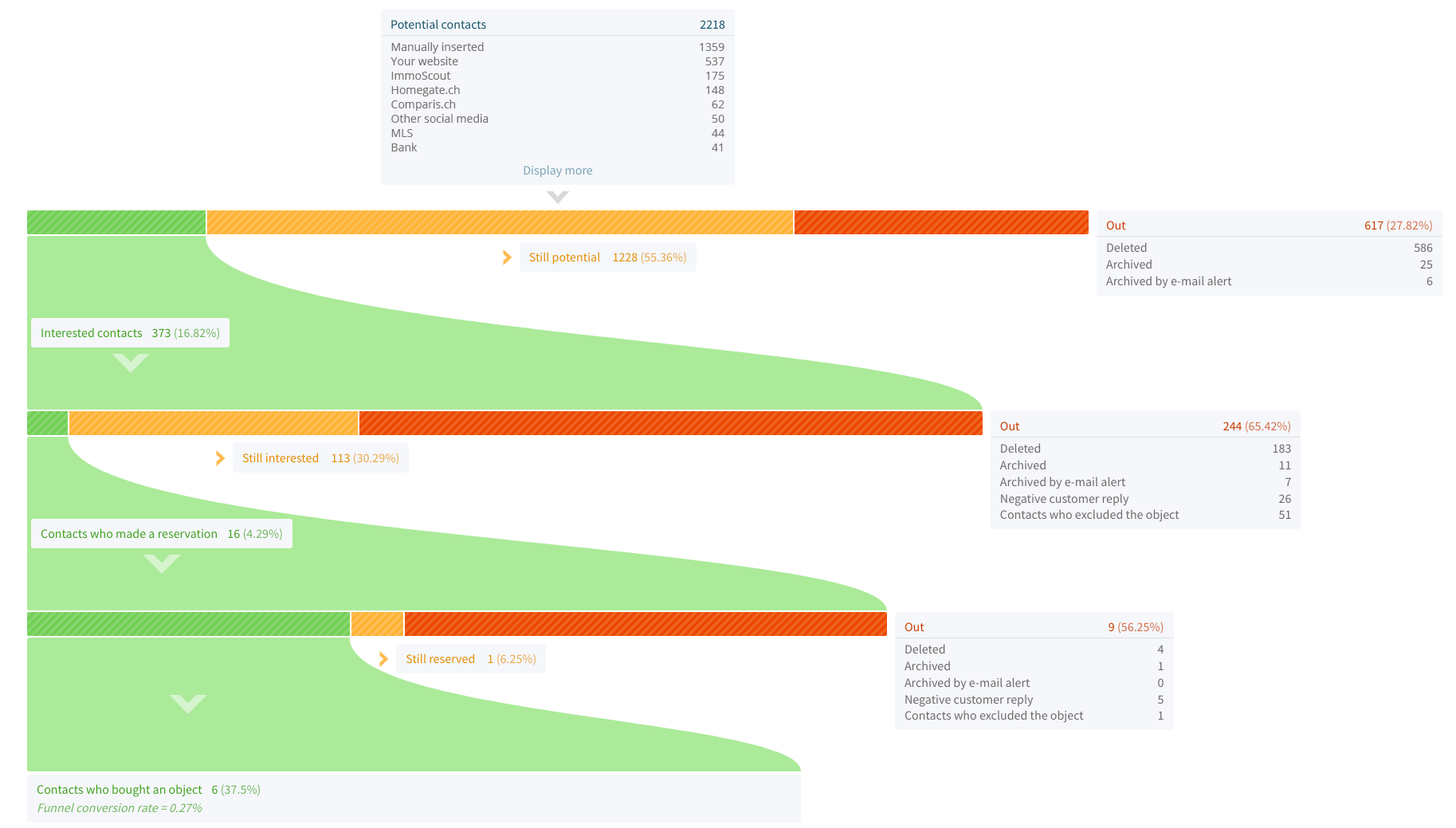 Lead conversion funnel
Knowing the number of leads and where they come from is fundamental in any sales process. This is why Immomig® offers you a unique tool to determine your lead conversion rate and their origin. Thanks to this tool you can know where your customers come from and which are the most profitable sources.
Thanks to the creation of mini-promotion sites
When you say big project for sale or rent, it implies important communication needs. What could be better than a web page! Thanks to the centralization of the contents and of the data on Immomig®, creating a web page entirely dedicated to the promotion of your real estate project has never been so easy! We guarantee you a structured and professional presentation of your objects, regardless of the type of site you choose, and of course with an automatic update of the information.
The creation of a website in a few clicks
You have the possibility to create a web page very easily and without assistance directly on your Immomig® software. Customize it to your taste and then share it without parsimony for a guaranteed success!
Autonomous content management
Thanks to the centralization of the contents and the datas on Immomig®, no additional access is necessary. You can perfectly manage all the information you want to communicate directly through your favorite software.
A responsive website adapted to mobiles and tablets
All the sites designed by IMMOMIG are responsible and are therefore suitable for all types of screens, including mobile phones and tablets.
Several models to choose from
You have the possibility to use our standard templates to highlight your real estate project on an independent website. Others websites templates are available under conditions.
Pro Rata invoicing according to the date of activation and deactivation of the project
Sometimes a project may have to be interrupted for a few months. IMMOMIG is aware of this aspect specific to real estate construction, which is why we offer you a Pro Rata billing based on the online publication of your projects. You only pay for the publication of your objects when they are active and therefore online! Honest, right?
High-performance management tools
The project management tool designed by IMMOMIG offers you an easy management of your properties but also of your promotional sites. With its tree structure and hierarchy system, save time in all the steps you will go through.
Identification of potential buyers through PDF downloads
Generate easily and quickly PDFs for your project, your building or your apartments and through their publication identify your potential buyers. Indeed, in order to obtain the desired document, the visitor will have to register his or her details. They will then be directly transferred to your Immomig® software.
Full control of SEO parameters
Our project management module allows you to configure as you wish different parameters specific to SEO referencing such as the keywords of the website or the description of the different pages. With IMMOMIG, you are in control.
Use of Google analytics
You want to deepen your knowledge about your customers, get to know them and know what they like. By inserting your Google analytics key on Immomig®, visitors of your promotional website will no longer be able to hide anything from you!
Websites available in nearly 10 languages
You want your website to be available in Italian, German or English! No problem with Immomig®, it's possible!
Requests received directly in the software
Thanks to the automatic exchange of information from both the promotion site and the software, you can instantly receive requests on your Dashboard..
Thanks to an easy identification of the objects
To offer even more interactivity to your customers on your website, choose an Immostra template or ask for a customization of your website! As a result, your potential buyers will be able to easily identify where the properties they are interested in are located on a dynamic image illustrating your project.
Thanks to the automatic generation of reports
Your mandator wishes to be kept informed of the progress of his project! Nothing could be easier, quickly select what you want to communicate to him and a tailor-made report will be sent to him! You can create this report for an entire project or simply for a particular building or object. It's up to you to choose!
Immomig® your tool for successful project management!