New projects for IMMOMIG SA
31.08.2021
After 4 years spent in German-speaking Switzerland, the headquarters of IMMOMIG SA is back in the Canton of Fribourg. This transfer, motivated by the Fribourg tax reform, marks the beginning of a major project including the construction of new offices and the creation of numerous jobs.
Based in Sursee (LU) since 2015, the headquarters of IMMOMIG SA, the Swiss market leader in real estate software, was moved to Granges-Paccot on 1 January. Thanks to the support of the Commune of Guin (FR), the Canton of Fribourg and the Confederation, this administrative change is the first step in a project that will last several years. IMMOMIG SA plans to construct a building in Guin (FR) and create 19 jobs in Fribourg over a period of five years.
A new building.
This year, IMMOMIG SA acquired a plot of land in the municipality of Guin, one of the last in the so-called "Arbeitszone Birch". A new building designed by virdis architecture sàrl will be built there to accommodate up to 70 employees. The move is planned for early 2023. Another building of the same size may also be built on this plot in the near future. For the time being, the employees of the Fribourg SME working in Switzerland are based in Sursee (LU) and Granges-Paccot (FR).
State Councillor Olivier Curty
is very pleased with the construction project:
«I am delighted that this expansion of IMMOMIG is being carried out in the canton of Fribourg and that the head office is being relocated here. I would like to thank the municipality of Guin and the various departments involved for their contribution to this decision. Guin is ideally located between the German and French-speaking parts of Switzerland and the Birch business park is perfectly accessible by the A12 motorway and public transport respectively.»
Creation of jobs with high added value.
IMMOMIG SA has about forty employees in Switzerland, but also in Serbia. In the long term, the Fribourg-based company's objective is to bring its employees together at its future site in Guin. In addition, numerous high value-added jobs will be created, particularly in the areas of sales and IT. Since the beginning of the year, IMMOMIG SA has already created more than 5 jobs.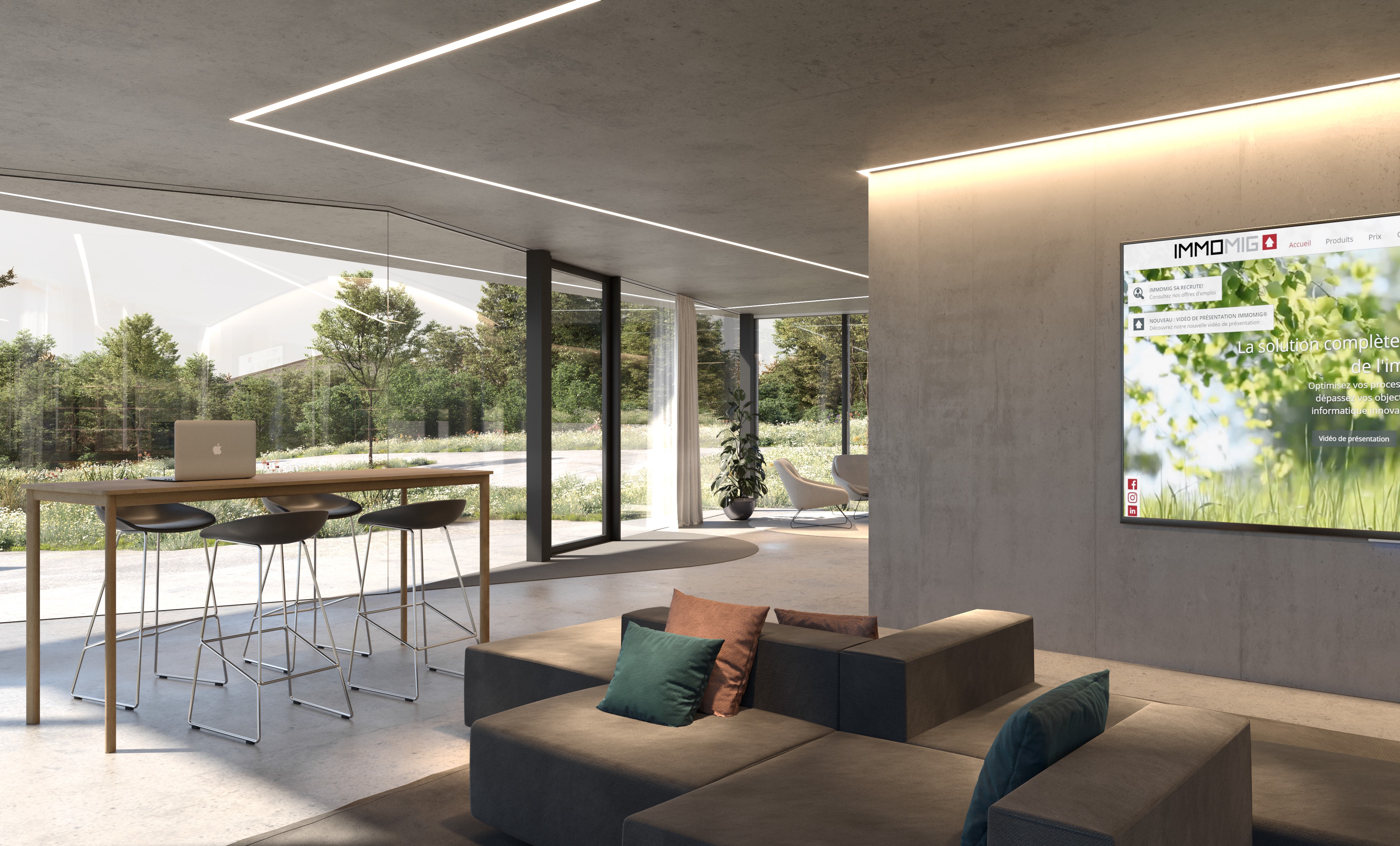 Architecte: virdis architecture Sàrl / Visualisation: Render4tomorrow Studio
An SME in full development.
Since its creation in 2004, IMMOMIG SA has continued to develop by focusing on technological innovation. Today, it has more than 600 customers and 6,000 users (compared to half in 2015) and has just acquired a renowned company: DBS Group (600 employees and 10 brands in Switzerland). This signature is a guarantee of quality for the solution developed by IMMOMIG SA and constitutes an additional motivation to improve it further.